What is it?
Since 2012, over 230,000 units have been produced, with this dynamic little hatchback striking a chord with buyers all over the world and particularly here in the UK.
Now, the latest model brings a fresh new look, and some clever interior tech but with an aim of providing the same kind of versatility provided by its predecessor. We've been finding out what it's like.
What's new?
The biggest change for this new 1 Series is the switch to front-wheel-drive. Now BMWs are famous for their rear-driven wheels, but in the 1 Series that's been changed out for a more 'usual' format. BMW says that, despite this, the 1 Series should be just as good to drive as always.
Plus, BMW says that this move means that there's more interior space than before alongside a better-sized boot, so it could be a move welcomed by practicality-focused buyers.
What's under the bonnet?
The 1 Series is offered with all manner of engines - including high-output versions in the M135i model - but one of the most efficient has to be the 118d. It uses a four-cylinder diesel engine with sends 148bhp through a seven-speed automatic gearbox.
Though it'll still manage 0-60 mph in just 8.2 seconds, the real focus here is on efficiency. It's why the 118d will manage a very impressive 60.1mpg, while CO2 emissions can be as low as 108g/km depending on wheel size.
What's it like to drive?
Though that switch to front-wheel-drive may confuse purists, for more 'everyday' drivers it's unlikely that the move will make much of an impact. The previous-generation 1 Series was, in truth, one of the sharpest-driving cars in its segment and though this new version may have dialled down that sparkle, it's still a very usable and capable hatchback.
The steering isn't too weighty so it's easy to drive around town, while the ride is reasonably comfortable - more so on cars with smaller wheels. Plus, it's well refined at speed so it's quiet and easy at motorway speeds.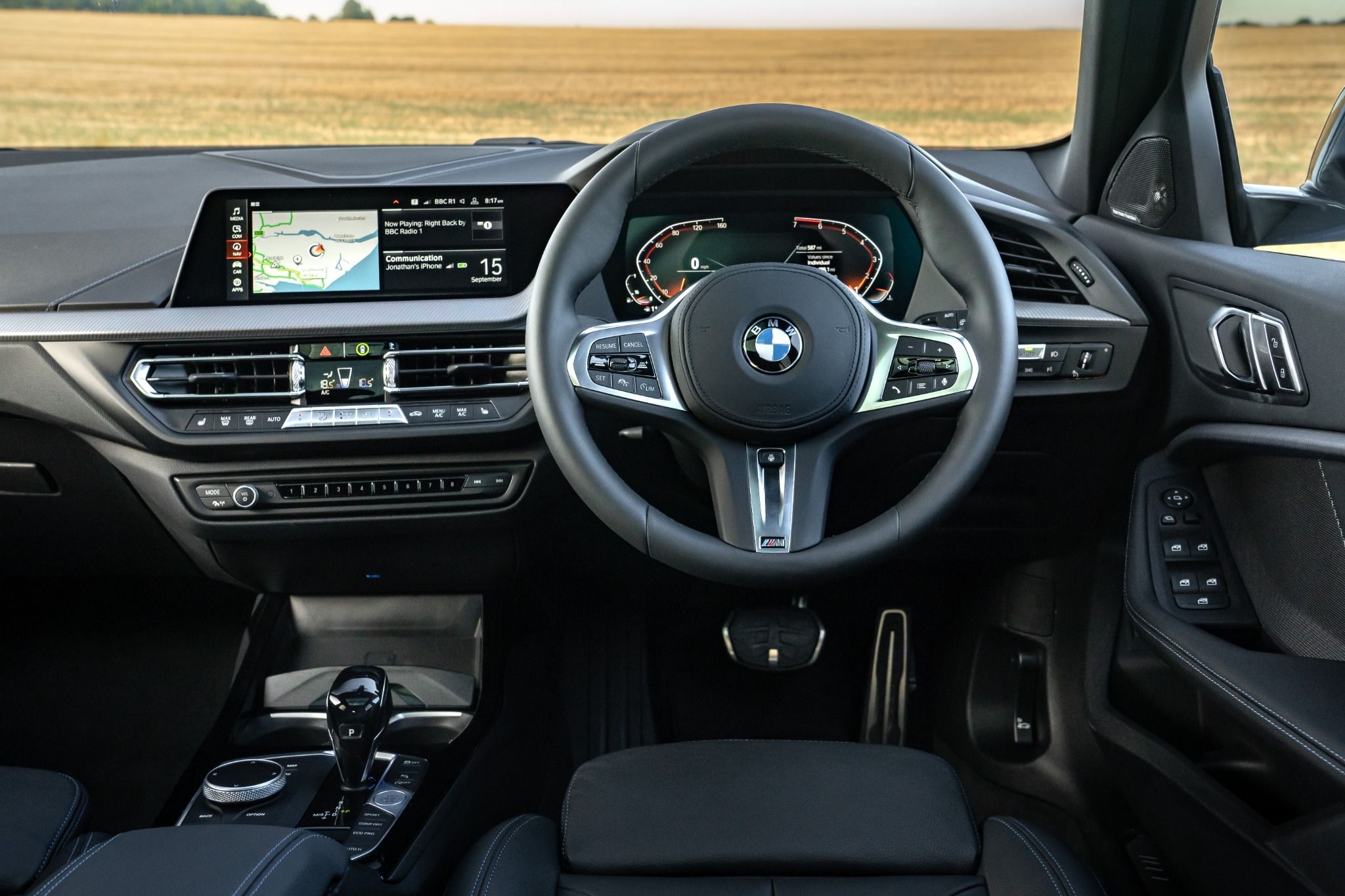 What does it look like?
There's been a big change in the way the 1 Series looks. The front kidney grille is bigger than ever - a trait we're seeing across the BMW range - while the headlights are slimmer. Around the back, it's a similar story with the rear lights, but it all ties together nicely.
It's a much taller-looking car than before, too, being 20mm shorter than the previous car while also bringing increases in width and height.
What's it like inside?
Now that the engine is mounted at the front, BMW has been able to get some extra space into the cabin. In fact, this is most noticeable up front where you're met with a wide, open area and a generally bright and airy feel. There are some nice soft-touch materials dotted around the place, too.
Much of this is carried into the back as well, with similarly high-end materials used. Both leg and knee room are great, though the sloping roofline does cut into headroom slightly. Still, it's certainly not an uncomfortable place to be. Boot space stands at 320 litres - 20 litres more than the older car. Plus, you can extend it to 1,200 litres by folding down the rear seats, which is a quick and painless process.
What's the spec like?
There are plenty of premium features aboard the 1 Series, including BMW's excellent digital cockpit and even gesture control - you can control the volume and other media functions simply by 'swiping' your hand. A head-up display can be optioned, too, while the main screen has a nice wraparound design which angles it towards the driver.
Plus, there's a clever new digital key setup which allows you to use your smartphone to access the vehicle. You can even grant access to a family member or close friend so that they can get in and drive without needing the physical key.
Verdict
Keen motoring enthusiasts may have been aghast at the removal of a rear-driven layout in the 1 Series but, in truth, it's a move which is unlikely to dent this car's popularity. The boosts that it brings both in terms of interior and boot space mean that regular drivers get some proper benefits, while there's loads of equipment on board too.
A good variety of engines means that there should be a powertrain to suit everyone, while the additional comfort and refinement mean that this 1 Series is easily going to be as successful as the car it replaces.
Browse our current BMW 1 Series stock